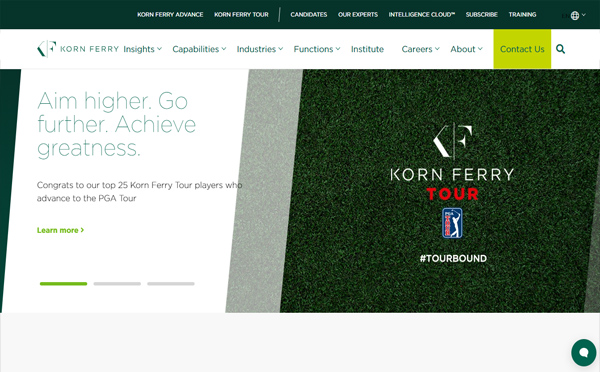 Los Angeles, CA
Global – Over 80 Offices Worldwide
OVERVIEW
As an innovator in executive search/recruitment since 1969, Korn Ferry works closely with clients and candidates to craft successful human capital strategies and solutions.  With a global network, time-proven search process, and broad industry expertise, Korn Ferry provides the competitive advantage necessary to recruit and develop world-class leadership teams.
CURRENT RANKING
Korn Ferry, the largest search firm in the world, held on to the #1 ranking again this year. The growth of Korn Ferry continues to be fueled by its impressive list of acquisitions (Hay Group, Pivot. etc.), which have made Korn Ferry the only search firm on the list with more than one billion dollars in revenue.
AREAS OF PRACTICE
Consumer – Advertising & Marketing Services, Consumer Products, Luxury, Media & Entertainment, Retail & Apparel, and Travel/Hospitality/Leisure
Financial – Asset & Wealth Management, Consumer & Commercial Banking, Financial Technology/Electronic Trading & Transaction Services, Insurance, Investment Banking, Capital Markets & Alternative Investments, Real Estate
Technology – Communications, IT-Professional Services, Software, Systems & Devices
Industrial – Aviation, Aerospace & Defense, Automotive, Basic Materials, Chemicals, Diversified Manufacturing, Energy, Industrial Services, Logistics & Transportation Services
Healthcare Services – Academic Medicine, Health Insurance, Hospital/Health Systems, Long-term Care/Assisted Living, Physician Groups
Life Sciences – Biotechnology, Consumer Health, Life Sciences Contract Services, Medical Devices, Pharmaceuticals
KEY EXECUTIVE
Gary Burnison  is the CEO of Korn Ferry, as well as a member of the firm's Board of Directors.  He brings hands-on experience from his previous roles as COO and CFO, as well as having held CEO and CFO roles at his previous companies.  He is a New York Times bestselling author, having written No Fear of Failure: Real Stories of How Leaders Deal with Risk and Change in 2011 and The Twelve Absolutes of Leadership in 2012.  He is also a regular contributor to CNBC, CNN, FOX Business, and other international news outlets.
REPRESENTATIVE CLIENTS
N/A