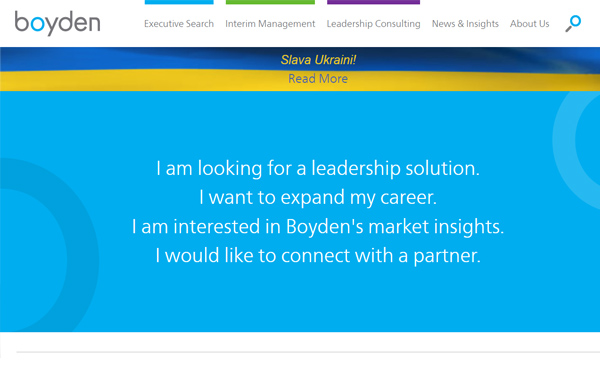 Global – Over 70 Offices Worldwide
OVERVIEW
Founded in 1946, Boyden pioneered the use of executive search, strategically partnering with clients to identify, search, source, recruit, and deliver key leadership talent and human capital all over the world.  Their international reach enables their clients to make strategic talent decisions within the context of their global requirements.
AREAS OF PRACTICE
Financial Services – Asset & Wealth Management/Alternative Investments, Treasury & Foreign Exchange, Commodities, Capital Markets, Corporate Banking & Transaction Services, Consumer Financial Services, Equities, Derivatives & Structured Products, Global Securities, Risk Management, Insurance, Fixed Income, Mergers & Acquisitions, Group Functions, Private Equity/Venture Capital, Leasing, Real Estate, Operations & Technology, Project/Leverage/Structured Finance
Technology – Communications, Internet/Internet Services, New Media, Professional & IT Services, Systems & Software, Emerging Technologies, Networking, Outsourcing, Semiconductors & Electronics
Healthcare & Life Sciences – Pharmaceuticals, Biotechnology, Healthcare Providers, Animal Health, Medical Devices & Supplies, Health Information Products & Services,  Distribution Board
Consumer – Advertising, Consumer Durable Goods, Food & Beverage, Media & Entertainment, Travel/Hospitality, Apparel, Consumer Packaged Goods, Leisure, Retail
Industrial – Agriculture, Aviation, Construction, Energy, Mining & Metals, Transportation & Logistics, Automotive, Chemical, Defense, Manufacturing, Packaging & Forest Products, Utilities
KEY EXECUTIVE
Trina Gordon is president and CEO of Boyden, the world's only multicultural executive search firm. Ms. Gordon was named one of the "50 Most Influential Headhunters in the World" in 2008 by BusinessWeek magazine. Ms. Gordon is cited in The New Career Makers — North America's Top Executive Recruiters, a Harper business publication, and Road to CEO, an Adams Media publication.
She has been featured on Nightly Business Report, a national television program, as well as several publications, including FORTUNE magazine, BusinessWeek, The Wall Street Journal, WallStreetJournal.com, and Directors Monthly. Ms. Gordon is highly regarded for her commitment to client service and adhering to the highest levels of professional quality and integrity.
REPRESENTATIVE CLIENTS
AIG, BARCLAYS, Bloomberg, JP Morgan Chase, Clear Channel, ATG, SGL Group, Cryo-Save, Mindteck, RICS, CRANE, and others.