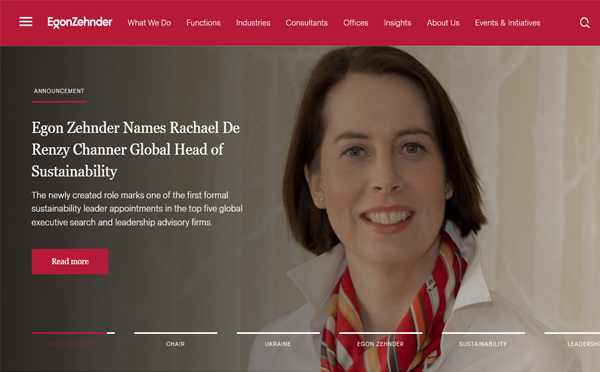 Zurich, Switzerland
Global – Over 60 Offices Worldwide
OVERVIEW
Since 1964, Egon Zehnder has been helping clients find the right leadership through the identification, assessment, and recruitment of the world's most talented business leaders. Because of their long-term outlook, Egon Zehnder consultants follow up with candidates and clients regularly to ensure outstanding performance and fit.
CURRENT RANKING
Egon Zehnder is the only non-U.S. firm to make the top 5 holding on to its #3 ranking for the second consecutive year. While their presence is still light by comparison in the America's, they clearly remain the most dominant firm in Europe.
AREAS OF PRACTICE
Financial Services  – Asset Management, Retail Financial Services, Wholesale & Investment Banking, Insurance, Private Capital, Risk Management, Fin Tech, Infrastructure
Life Sciences & Healthcare Services – Pharmaceuticals, Biotechnology, Generics, Medical Devices, Diagnostics, Healthcare Services, Healthcare Informatics, Consumer Health
Industrial – Automotive & Transportaiton Equipment, Building Components, Chemical & Process Industries, Energy & CleanTech, Machinery & Engineering, Mining
Private Capital
Public & Social Sector
Technology & Communications  – Telecommunications, Digital, Systems, Services & B2B Software, Semiconductors
Consumer – Consumer Products, Hospitality and Leisure, Media & Entertainment, Retail, Apparel & Luxury Goods, Sports Business, Chief Marketing Officer
Services – Supply Chain Services, Passenger Transport & Travel, Hospitality & Leisure, Facility Services, Real Estate Services, Professional Services
Sovereign Wealth Funds
 KEY EXECUTIVE
Rajeev Vasudeva is the Chief Executive Officer of Egon Zehnder. He advises the boards and CEOs of organizations around the world on effective leadership, board performance and succession planning at a time when the speed and fluidity of the global marketplace is upending traditional best practices and guideposts. Rajeev is based in the London office. Rajeev succeeds Damien I. O'Briend who remains Chairman of Egon Sehnder International.
REPRESENTATIVE CLIENTS
Egon Zehnder's clients range from the largest corporations to emerging growth companies, family and private-equity controlled entities, government and regulatory bodies, and major educational and cultural organizations.