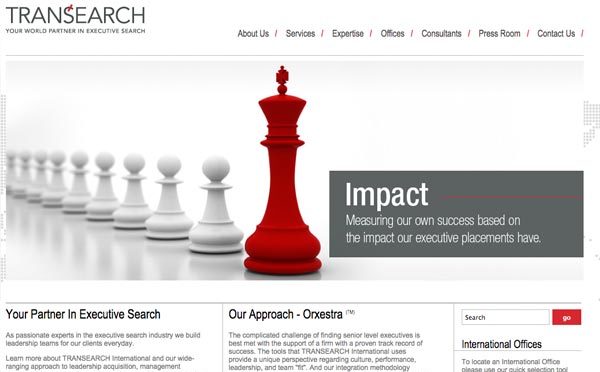 Paris, France
Global – Over 55 Office Worldwide
OVERVIEW
TRANSEARCH was founded in 1982 and has dedicated itself to assisting clients in acquiring leadership talent through outstanding research capabilities and access to a global talent pool, thorough assessment methodology, in-depth reference checking, and critical contribution to completion of the search by facilitating final negotiations.
AREAS OF PRACTICE
Business & Professional Services –(Audit, Accounting & Tax, Legal Consulting, Operations Consulting, Professional Services, Strategy & Management Consulting, Technology Consulting
Construction & Real Estate – Commercial, Environmental Management & Compliance, Environmental Sciences, Government, Hazardous Waste, Healthcare, Mining & Metals, Oil, Gas & Petrochemicals, Power, Security & Life Safety Systems,  Solid Waste, Telecommunications & Data Systems, Transportation, Water Supply, Wastewater
Consumer – Consumer Goods & Services; Fashion &Luxury Goods; Retail; Hospitality, Leisure and Travel
Energy, Utilities & Mining – Mining & Minerals, Oil & Gas, Utility Operations, Energy Trading, Service Companies
Financial Services – Specialty Financial Practices, Niche Practices within Global Industries, Present in the Major Financial Centres, Offices Worldwide, Financial Consultants with Exceptional Industry Expertise, Long Term Client Relationships, Access to Corporate Europe
Government, Education & Non Profit – Charities, Culture & Sport, Education, Government & Civil Administration, Not For Profit, Public Services, Representative Bodies
Industry – Automotive, Aviation, Aerospace & Defense, Chemical & Process Industries, Engineering & Machinery, Manufacturing, Metals, Pulp, Paper & Packaging, Supply Chain
Life Sciences – Bio-Engineering/Agricultural, Biotechnology, Fine Chemicals, Health Management, Hospital Services, Medical Devices & Diagnostics, OTC Products, Pharmaceuticals, Public Health, Veterinary
Renewable Energy / Clean Technology – Wind, Solar, Geothermal, Hydro, Wave, & Biomass energy; Biofuels; Smart Grid Distribution, Metering, & Management; Energy Storage; Energy Efficiency; Electric Vehicle, Powertrain, & Hybrid Technology Manufacturing; Recycling; Water/Wastewater
Technology, Communication & Media – Communications, Hardware & Systems, Internet/eBusiness, Media & Publishing, Semiconductors, Software, Technology Services
KEY EXECUTIVE
Alain Tanugi co-founded TRANSEARCH International in 1982. Currently, Mr. Tanugi serves as executive chairman, leveraging his over 30 years experience as an Executive Search professional. His career began with Thomson Group in their training programs division. He then moved to Conduit Group in their training and temporary staff services division performing various sales and marketing positions in France and Continental Europe. His clients include: Louis Vuitton, Loewe, Pommery, Vinci Energies, Pomona, Universal Music, Bestfood and Accenture amongst others.
REPRESENTATIVE CLIENTS
Louis Vuitton, Loewe, Pommery, Vinci Energies, Pomona, Universal Music, Bestfood, Accenture, and others
Follow TRANSEARCH Online