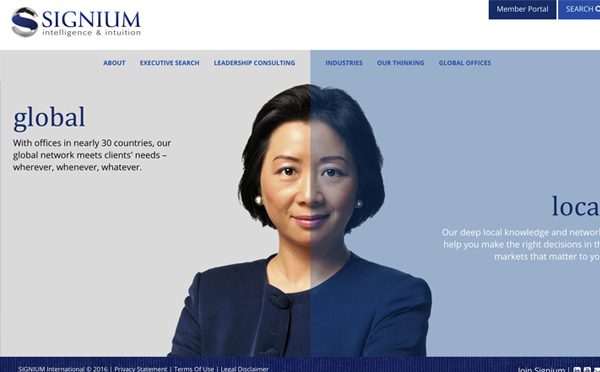 Chicago, IL
Over 40 Offices Worldwide
OVERVIEW
For over 60 years, Signium (formerly Ward Howell International) has earned its reputation as a leader in the global executive search market.  Its consultants possess exceptional experience and deploy high-touch expertise and rigorous processes to consistently deliver the highest quality candidates to their clientele.
Healthcare – Integrated Healthcare Systems & Hospital Systems; Freestanding Hospitals (independent, community, academic, government, nonprofit, for-profit, start-up, etc.); Physician Practice Groups; Medical Schools; Medical Associations; Boards; and more.
Industrial – Alternative & Renewable Energy, Automotive, Aviation, Aerospace & Defense, Building / Construction Products, Capital Equipment, Chemicals, Consumer Durables, Diversified Manufacturing, Electricity / Electronic Products
Engineering / Construction, Metals, Mining, Oil / Gas, Paper & Packaging, Transportation / Logistics, Utilities
Technology – Cloud Technology & Services, Communications & Media, Electronics, Global Internet, Hardware Systems, Product Support & Maintenance Services, Semi Conductors, Software, Technology Infrastructure Services, Telecom
Life Sciences – Biotechnology, Consumer Health, Medical Devices and Diagnostics, Pharmaceuticals
Consumer Goods – Apparel & Fashion, Consumer Durable Goods, Cosmetics, Food & Beverages, Hospitality, Media, Retail
Financial Services – Asset & Wealth Management, Consumer Finance & Retail Banking, Corporate Finance and Advisory, Debt Capital Markets, Infrastructure & Project Finance
KEY EXECUTIVE
Ignacio Bao has been the Chairman of Signium International since 2006. He has more than 21 years of experience within the sectors of Consultancy, Industry and Leadership Services. In 2008, Mr. Bao was the only Spaniard named among "The Word's 50 Most Influential Headhunters Worldwide" by the renowned U.S. magazine, BusinessWeek.
REPRESENTATIVE CLIENTS
N/A