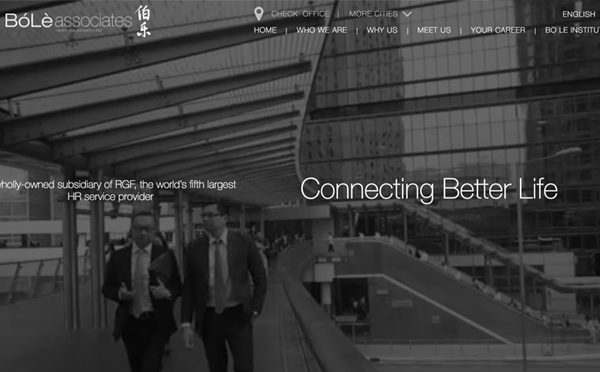 Hong Kong
Global - 25 Offices Worldwide
OVERVIEW
As the largest executive search firm in Asia, Bo Le Associates specializes in handling senior level assignments in a variety of industries.  Their focus is to build strong relationships with clients, anchored in a give-and-take approach and unrelenting commitment to prioritizing clients' interests ahead of anything else.
AREAS OF PRACTICE
Pharmaceutical
Consumer Products / Luxury Retail
Industrial
Financial Services / Insurance
Advanced Technology & Internet
Professional Services
KEY EXECUTIVE
Louisa Wong is the founder and Executive Chairman of Bó Lè Associates, the largest executive search firm in Asia. Ms. Wong was cited by BusinessWeek magazine as one of the "50 Most Influential Search Consultants in the World" in 2008 and for "Outstanding Contribution to HR in China and Hong Kong" by a Euromoney publication.
She is a noted speaker, and has written numerous opinion articles for and granted interviews to well-known journalists from leading publications such as Fortune magazine, the South China Morning Post, The Economist, Time magazine, Foreign Policy, eFinancialCareers, the Hong Kong Institute of Human Resource Management, the American Chamber of Commerce, the British Chamber of Commerce, HR Magazine, among others. She has also appeared on live television broadcasts including Bloomberg, CNBC , Cable TV, and CCTV International, China's premiere English language 24-hour news channel covering over 120 countries.
REPRESENTATIVE CLIENTS
Bo Le has more than 900 clients in varied industries: 31% are from the consumer industry, while 29% are from the financial services industry, and 28% are from the industrial sector. Other major sectors include technology and pharmaceuticals.